The Musica nova Helsinki festival was experienced by an audience of more than 200 000 people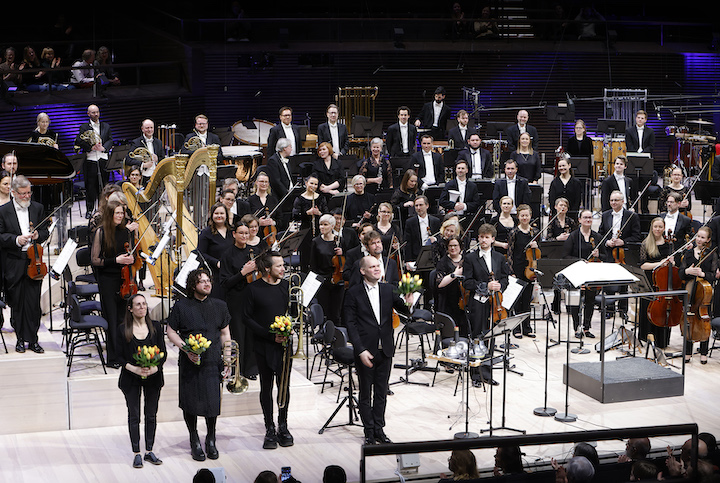 The largest contemporary music biennale in Finland, Musica nova Helsinki, celebrated its closing day today. Almost 40 concerts and performances took place during the 12-day festival, enjoyed by almost 7,000 visitors on site, an estimated 164,500 radio listeners and more than 29,000 viewers of live broadcasts and recordings.
Musica nova's programme, the theme of which was Emotions and Sensations this year, featured several works by Clara Iannotta, the Italian composer-in-residence for Musica nova. In addition to Iannotta, the festival brought a number of notable and topical names of contemporary music to Finland, including German composer Helmut Lachenmann, who is one of the most influential living European composers, the Austrian contemporary music ensemble Klangforum Wien, British soprano Juliet Fraser, German experimental music composer Alexander Schubert, whose music involves multimedia and interactive elements, British opera composer Philip Venables, as well as Japanese performer and composer Tomomi Adachi.
"This year's festival has once again brought together the Finnish and international contemporary music scene with artists, performers and the audiences. There has been a tangible buzz and enthusiasm for the shared experience of live music. I've been highly impressed by everyone's dedication, uncompromising musical performances and touching encounters with different artists and audiences," says Tuuli Lindeberg, Musica nova Helsinki's Artistic Director.
The festival's highlights included numerous premieres, intimate club events, participative installations, Klangforum Wien's opening concert and their educational collaboration with the Sibelius Academy of the University of the Arts Helsinki, as well as the closing concert performed by the Avanti! Chamber Orchestra.
The festival showcased a wide range of contemporary music and its creators and offered easy access to the lively and dynamic activities in the field of freelance contemporary music in Finland. The festival also included a programme of lectures and discussions aimed at professionals, students and the general public.

Yle broadcast Musica Nova concerts live and as recordings. Some of the concerts will also be available after the festival on Yle Areena, which means that the festival's final reach figures will be specified later.
The Musica nova Helsinki, which just came to an end, was the first programme arranged by Artistic Director Tuuli Lindeberg. Lindeberg will also be the director of the next festival, which will take place in early 2025.
Image: Minna Leinonen's Helsinki Variations: Vimma (Frenzy), Jimmy López Bellido'sSynesthésie and Clara Iannotta's where the dark earth bends premiered at the Helsinki Philharmonic Orchestra's concert at the Helsinki Music Centre on Friday, 3 March / Maarit Kytöharju