Helsinki Polytopes: Room 227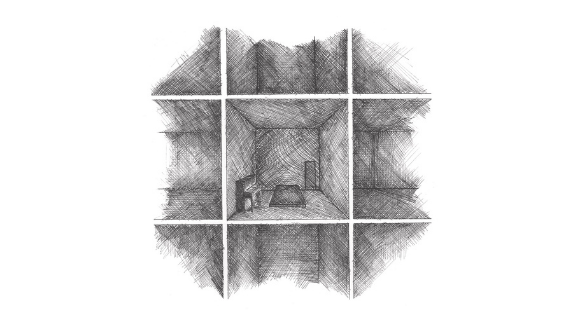 Event Introduction
Siiri Hänninen's and Tara Valkonen's Room 227 is an installation in which the architecture is created with sound. One room becomes a part of a bigger complex – an imaginary building, where all the sporadic sounds amalgamate into a symphony. Two people can experience the installation at the same time, and the experience is intimate.
The work is a part of the series Helsinki Polytopes, realised by the Korvat auki contemporary music society and the New Academy architectural education programme for the Musica nova Helsinki festival. The series consists of four works, three of which will be performed at Musica nova, and the fourth during the summer of 2021. The aim of Helsinki Polytopes is to seek the meeting points of architecture and music as well as new forms of co-operation between composers and architects.
Please note: all the private screenings are booked.
Date: 8, 9 and 10 February 2021. Pop-up installation in the garage at the back of the yard, details provided after ticket purchase. Installation is for one or two people at a time, must be reserved in advance. Book your time slot (fully booked!). Use of face mask is required.
Sponsors and partners: Sponsored by the Arts Promotion Centre Finland (Taike) and Jenny and Antti Wihuri Foundation, realised by Korvat auki and New Academy in co-operation with Musica nova Helsinki
Link to the organiser's website: Korvat auki, New Academy
Event Information
Time:

Mon 8.2.2021 14:00–20:45

Tue 9.2.2021 14:00–20:45

Wed 10.2.2021 14:00–20:45

Duration: 30 min

Organiser:

Korvat auki, New Academy, Musica nova Helsinki

Address:

Pop-up installation in Punavuori



Accessibility:

The event is accessible with a wheelchair.

Tickets:

10 € (Korvat auki)

Sold-out