Klangforum Wien, Elena Schwarz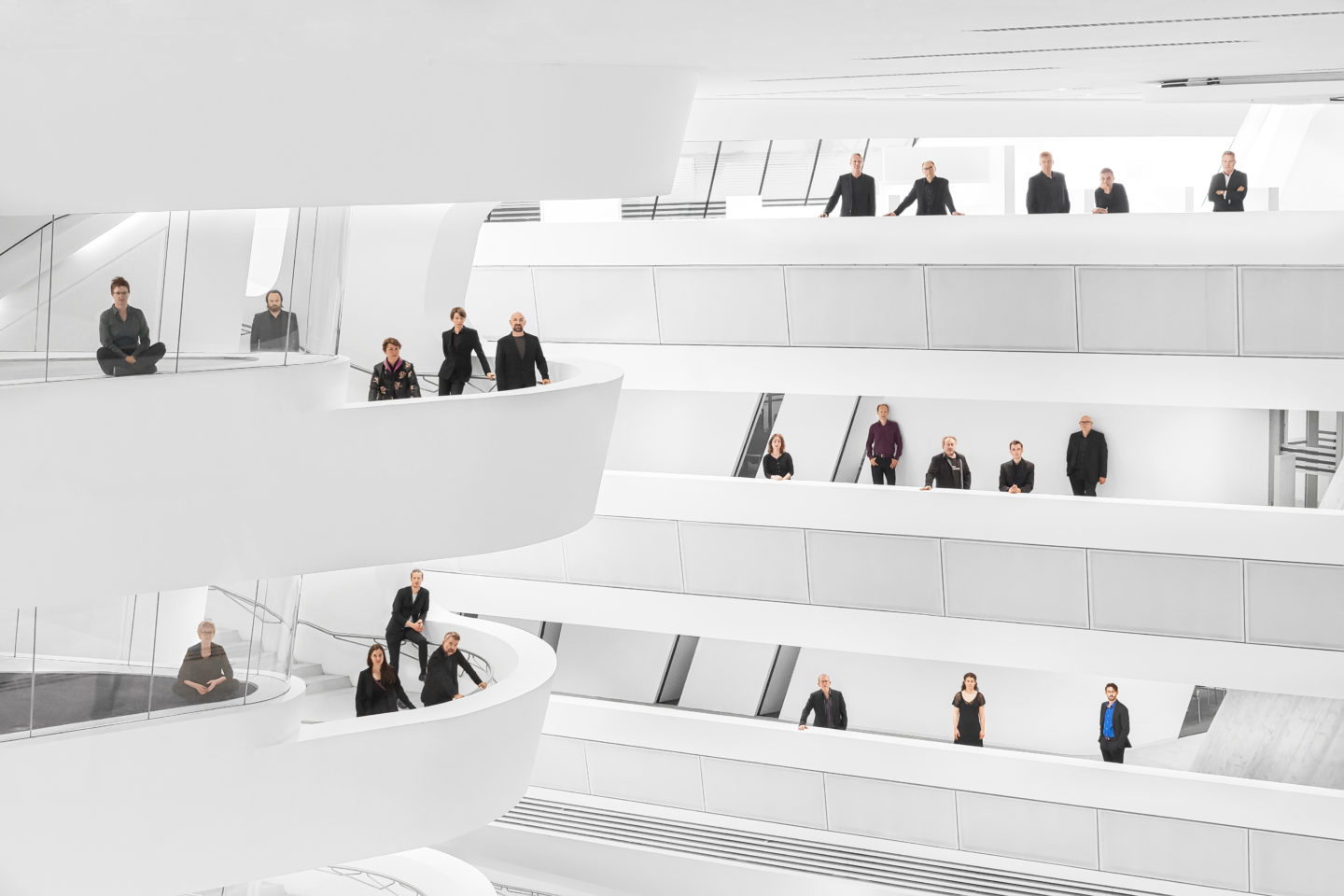 Event Introduction
One of the most prestigious contemporary music ensembles in Central Europe, Klangforum Wien challenges and inspires with its candid, brave and creative approach. The ensemble collaborates with some of the most significant contemporary composers in Europe. Helsinki Festival brings Klangforum Wien to Finland in full force for the first time and opens the festival with a titillating programme. The ensemble consisting of top soloist chamber musicians is conducted in Helsinki by Elena Schwarz, whose contemporary music interpretations have been highly praised.
Written for Klangforum Wien, Clara Iannotta's a stir among stars, a making way (2020) is a new version of the composer's orchestral work MOULT (2018–19), which was inspired by the moulting of a spider – a physically-demanding, dangerous yet vital process that takes place a couple of times during the spider's lifecycle, during which the animal stops breathing and is particularly vulnerable for some time. The double temporality of the cast-off ghost of a shell and the renewed animal makes us confront the past within the movement of the present. The composer has imagined the orchestra as an animal that can shed its skin, thereby shedding pasts that continue to haunt the form of the piece.
Sara Glojnaric's Pure Bliss (2022) sends chills down your spine through its exploration of tonal pleasure, prolonged ecstasy and pure bliss.
The concert ends with Olga Neuwirth's fairly early work Vampyrotheone (1995), in which the listener is subjected to a mix of the most heterogeneous sonic events and Neuwirth's unorthodox way of using familiar instruments. Pitch, timbre, gestures and movements – all the features through which a listener's senses may focus on a particular instrument – fade and are washed away. Neuwirth's Magic Flu-idity for Solo flute and typewriter (2018) uses an Olivetti typewriter. Unpredictable developments result in a certain disorder, but her music unfolds organically, rampantly, leading to a strange, unusual, particular equation, the solution of which lies in itself.
Download programme notes (pdf) »
Read more about the orchestra and composers »
Programme:
Clara Iannotta: a stir among the stars, a making way (2020)
Sara Glojnaric: Pure bliss (2022)
Olga Neuwirth: Magic Flu-idity for solo flute and typewriter (2018)
Olga Neuwirth: Vampyrotheone (1995)
Performers:
Elena Schwarz, conductor
Vera Fischer, flute
Daniel Dundus, saxophone
Michele Marelli, clarinet
Samuel Toro Pérez, electric guitar
Lukas Schiske, type writer
Peter Böhm, principal
KLANGFORUM WIEN
Vera Fischer, flute
Martha Effe, flute
Ivana Nikolic, oboe
Ettori Biagi, clarinet
Anna Koch, clarinet
Michele Marelli, clarinet
Daniel Dundus, saxophone
Edurne Santos, bassoon
Christoph Walder, horn
Anders Nyqvist, trumpet
Michael Büttler, trombone
József Bazsinka, tuba
Tina Žerdin, harp
Krassimir Sterev, accordion
Samuel Toro Pérez, electric guitar
Florian Müller, Klavier, celesta
Jan Satler, electric organ, keyboard
Lukas Schiske, percussion
Alex Lipowski, percussion
Gunde Jäch-Micko, violin
Annette Bik, violin
Paul Beckett, viola
Ulrich Mertin, viola
Benedikt Leitner, cello
Andreas Lindenbaum, cello
John Eckhardt, double bass
Aleksi Ruonavaara, double bass
In co-operation with:
Jane and Aatos Erkko Foundation
Klangforum Wien is kindly supported by Erste Bank
Map
Event Information
Organiser:

Helsinki Festival

Address:

Uniarts Helsinki, R Building, Concert Hall
Pohjoinen Rautatiekatu 9
00100 Helsinki

Tickets:

35 / 25 € (Lippu.fi)